The Real Marigold Hotel & The Indian Dream Hotel
The BBC three part documentary series which was telecast on BBC 2 in Jan-Feb 2016 was filmed at Khatu Haveli. The filming took place in September 2015 when the cast which comprised of eight British celebrities who stayed at Khatu Haveli for around three weeks.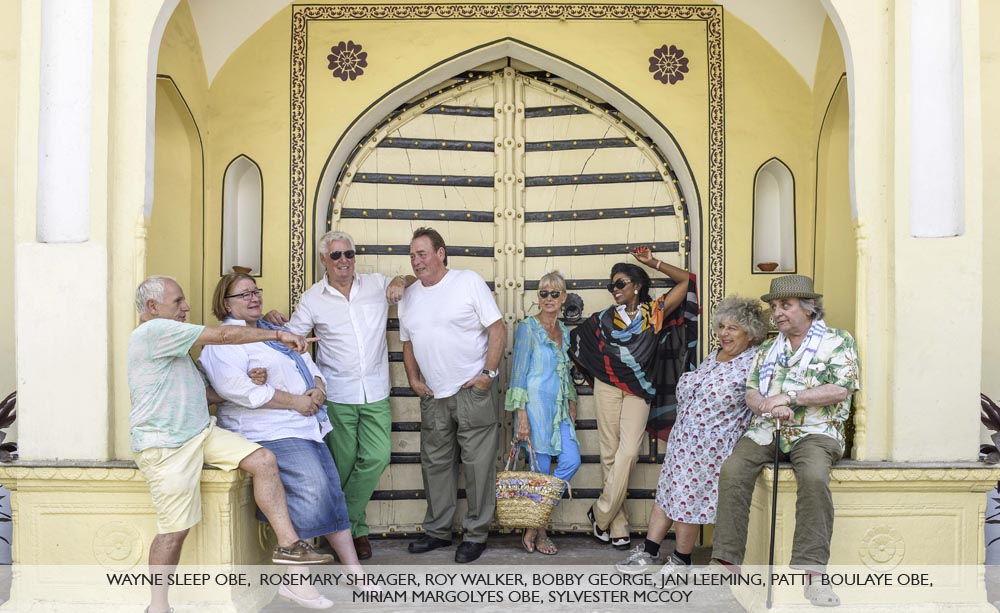 The cast were all senior citizens above the age of 65 with diverse professional backgrounds. They traveled to India to explore the possibility of settling in India post retirement. The theme of the series revolved around the idea that it is possible to secure a better quality of life in India at a fraction of the price as compared to the UK. India offered them world class hospitals, excellent accommodation with modern facilities, well trained household staff and multiple activities such as yoga, meditation, golf, traditional forms of relaxation, traveling, cooking classes, language classes etc. During the stay the cast indulged in all these activities.
They also experienced life in the heart of the old city by purchasing groceries, visiting the barber, the laundry women, temples, the local tailors and attending the annual Ganesh festival. During their stay in Jaipur they visited all the historical monuments and cultural sites. Using Jaipur as a base they traveled to Agra and Varanasi to wrap up their India trip. The cast included the following:


1. WAYNE SLEEP OBE (British dancer, director, choreographer, actor and panelist)
2. ROSEMARY SHRAGER (Celebrity chef, best known for being an haute cuisine teacher on Ladette to Lady and judge on Soapstar Superchef)
3. ROY WALKER (Television personality and comedian actor best known as the original host of the game show Catchphrase, and as one of the stars of the standup comedy – The Comedians)
4. BOBBY GEORGE (English dart player and presenter known for his flamboyant entrances and has won several leading darts tournaments)
5. JAN LEEMING (British TV presenter and news reader)
6. PATTI BOULAYE OBE (British-Nigerian singer, actress and artist )
7. MIRIAM MARGOLYES OBE (English-born Australian character actress and voice artist, best known for her role Professor Sprout in the Harry Potter film series)
8. SYLVESTER MCCOY (Scottish actor, best known for playing the seventh incarnation of the Doctor in the long running science fiction television series Doctor Who)

After being telecast on BBC 2 as The Real Marigold Hotel the documentary series is now also known as " The Indian Dream Hotel" and is being telecast in other countries. It is available on YouTube on the latter name.


Click Here to Watch the Documentary
Marigold Hotel is brilliant as oldies show HQ Documentary 2016 - 1
Marigold Hotel is brilliant as oldies show HQ Documentary 2016 - 2
Party at the Haveli The Real Marigold Hotel Episode 1 Preview BBC Two
Reviews by Our Guests